Gold (not) only for the brave
GOODRAM Gold USB Credit Card stands out with its original shape and graphic design resembling a golden credit card. You can feel the luxury of prestigious card and in the same time surprise your friends with this unusual product. Although GOODRAM Gold USB Credit Card won't let you pay your bills, it will store your precious data instead.
---
See how it works!

---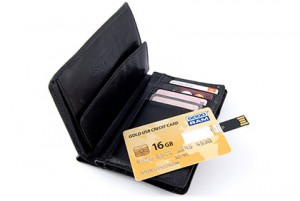 Always at hand
The design of GOODRAM Gold USB Credit Card looks identically to the credit cards used every day. Thanks to ultrathin housing you can keep your data always in your wallet and use them when needed. GOODRAM Gold USB Credit Card will help you in sharing precious photos, films or documents in every situation.
---
Durability for active persons
GOODRAM Gold USB Credit Card takes advantage of COB (Chip on board) technology – silicon cores of memory chips and the controller were installed in one printed circuit, which was subsequently sealed with a special resin. Thanks to that, besides small size and weight, the memory gained additional, important advantage: it is water- and shock-resistant, ensuring even more comfortable use. The above features make the pendrive suitable especially for active persons appreciating practical values of data carriers.
---
Lifetime warranty
Production of GOODRAM Gold USB Credit Card  involves only the best components, and, over the entire production process, memory undergoes multi-stage tests and very strict quality control. Thanks to the above, alike other GOODRAM brand products, GOODRAM Gold USB Credit Card  is covered by lifetime warranty of the producer.