Everyday jewellery
GOODRAM Unity stands out with its jewellery look and is a perfect solution for persons appreciating original design. A simple shape of the USB flash drive ended with a shining eyelet will be certainly welcomed by many users. Silver, steel housing and also lack of cap allows safe use of the data carrier in any situation.
---
Increased resistance thanks to steel housing
Subtle and rock solid GOODRAM Unity enjoys interest among both male and female users. Its steel, solid housing  stands out with original and timeless patterns, and also guarantees increased resistance to damage protecting data stored in the data carrier. You will be able to enjoy the good look and functionality all the time not worrying about the lost cap, which is not detachable.
---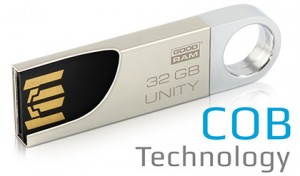 Durability for active persons
GOODRAM Unity takes advantage of COB (Chip on board) technology – silicon cores of memory chips and controllers were mounted in one printed circuit while entire circuit was protected by special resin. Thanks to that solution, besides of small dimensions and weight, the memory gained additional, important advantage: it is waterproof and shock-resistant, providing even greater comfort for the users. The above mentioned feature makes the pendrive suitable for all active persons appreciating practical features of data carriers as well as their exterior design.
---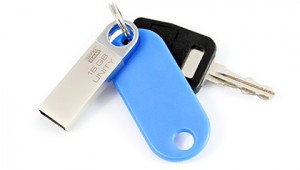 Always at hand
A well-thought-out design of GOODRAM Unity makes the pendrive a perfect companion as a key fob; a special profile of the small hole allows also fast attachment to the key leash. Thanks to that feature, you can always easily share your favourite movies or music with your friends, and keep important documents or presentations always at hand.
---
Lifetime warranty
Production of GOODRAM Unity  involves only the best components, and, over the entire production process, memory undergoes multi-stage tests and very strict quality control. Thanks to the above, alike other GOODRAM brand products, Unity is covered by lifetime guarantee of the producer.
Online Inquiry