A blend of tradition and modernity
The housing of GOODRAM Edge is made of anodized aluminium, which additionally protects the carrier against mechanical damage. There are many vibrant colours of GOODRAM  Edge available. Especially designed groove adds to the modern design of the USB flash drive.
---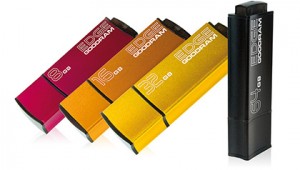 Bet on colour
GOODRAM Edge flash drives are available in a series of exceptional colours, depending on the capacity:  8 GB is vivid red ruby,16 GB is juicy orange, while 32GB is shining gold, and 64 GB and 128 GB are deep red. Each capacity is also available in classic and elegant black version.
---
Always at hand
The traditional shape of Edge gains popularity among supporters of practical solutions. A well-thought-out design of GOODRAM Edge makes the pendrive easily attachable to a leash, or a key ring allowing you to use it at any time.
---
Solution for demanding persons
GOODRAM EDGE is an ideal solution for demanding users appreciating quality at affordable price.  Functionality and design of GOODRAM Edge combined with competitive price makes it a perfect data carrier for everyday use.
---
Lifetime warranty
Production of GOODRAM Edge  involves only the best components, and, over the entire production process, memory undergoes multi-stage tests and very strict quality control. Thanks to the above, alike other GOODRAM brand products ,Edge is covered by lifetime guarantee of the producer.
Online Inquiry