Original and functional
The housing of GOODRAM Zip stands out with a pioneer opening/closing mechanism resembling a folding knife. The practical size allows you to carry and store the data carrier in a comfortable way. For example, it can be attached to your keys or kept in the wallet. Thanks to a revolving opening/closing system, GOODRAM Zip gains additional functionality, and thanks to lack of cap even the most absent-minded users will be able to enjoy it for a long time.
---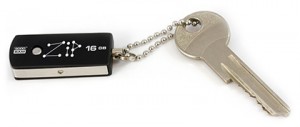 Always at hand
A well-thought-out  design of GOODRAM Zip makes the pendrive a perfect companion as a key fob, and a special profile of the ring will allow you to easily attach it to your key leash. Thanks to the above solutions, you can always easily share your favourite movies or music with your friends, and keep important documents or presentations always at hand.
---
Lifetime warranty
Production of GOODRAM Zip  involves only the best components, and, over the entire production process, memory undergoes multi-stage tests and very strict quality control. Thanks to the above, alike other GOODRAM brand products, Zip is covered by lifetime guarantee of the producer.
Online Inquiry