Small size, great functionality
Although the housing of GOODRAM Cube is only 3 cm, the memory can capacitate even 64GB of data! The small size is very convenient for carrying data and storing the data carrier. For example, it can be kept attached to your keys or in your wallet. The revolving opening/closing system of GOODRAM Cube adds more functionality, while lack of detachable cap will let even the most absent-minded users enjoy this data carrier for a long time.
---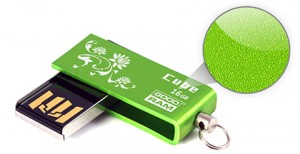 Robust housing
The housing of GOODRAM Cube is made of anodized aluminium, which additionally protects the data carrier against mechanical damage.
---
Always at hand
The classic housing of GODORAM Colour  becomes more and more popular among people fond of practical solutions. Thanks to its well-thought-out design, GOODRAM Colour can be easily attached to a leash and make your data available all the time. The revolving opening/closing system and cap-free solution will let even the most absent-minded enjoy this practical USB flash memory.
---
Durability for active persons
GOODRAM Cube takes advantage of COB (Chip on board) technology – silicon cores of memory chips and the controller were installed in one printed circuit, which was subsequently sealed with a special resin. Thanks to that, besides small size and weight, the memory gained additional, important advantage: it is water- and shock-resistant, ensuring even more comfortable use. In turn, the housing made of anodized aluminium protects also against external damage.
---
Lifetime warranty
Production of GOODRAM Cube  involves only the best components, and, over the entire production process, memory undergoes multi-stage tests and very strict quality control. Thanks to the above, alike other GOODRAM brand products, Cube is covered by lifetime guarantee of the producer.