Small size, big functionality
The housing of GOODRAM Piccolo  has approximately 2 cm, and despite of that, thanks to application of the latest technologies, this USB flash drive can capacitate even 32 GB! The small size makes it very handy whenever you need to copy or store data in the carrier. You can carry it with your keys or plug it for some time to your laptop or car radio. The profiled shape of Piccolo makes it very functional and practical in use.
---
Always at hand
The design of GOODRAM Piccolo makes it perfectly suitable as a key fob, and, thanks to especially profiled small hole, it can be easily attached to a key leash. You can also easily carry it in your wallet or permanently attach to your car radio or laptop. All those features will help you in sharing photos, favourite films or music with your friends, and you will have important documents or presentations always at hand.
---
Favourite music in your car
GOODRAM Piccolo is ideal for use in the car radio! After plugging in to the USB port, GOODRAM Piccolo is practically invisible: it does not take space and doesn't have to be unplugged each time. Very good operating parameters of the memory will certainly satisfy even demanding users.
---
Durability for active persons
GOODRAM Piccolo features COB (Chip on board) technology – the silicon cores of memory chips and the controller were installed in one circuit, which was sealed with a special resin. Thanks to that, besides small size and weight, the memory gained additional, important advantage: it is water- and shock-resistant, ensuring even more comfortable use.
---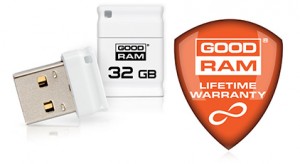 Lifetime warranty
Production of GOODRAM Eco  involves only the best components, and, over the entire production process, memory undergoes multi-stage tests and very strict quality control. Thanks to the above, alike other GOODRAM brand products , Eco is covered by lifetime guarantee of the producer.