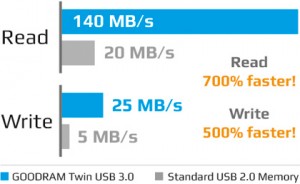 High efficiency thanks to USB 3.0
GOODRAM Twin  is equipped with the modern USB  3.0 interface, which improves considerably the pendrive's operating parameters as compared with previous solutions. Thanks to data transfers reaching 140 MB/s you can copy your data instantly.
You can use your memory both in devices equipped with USB 3.0 as well as older versions of USB port because GOODRAM  Twin is backward compatible with USB 2.0 standard. However, you will be able to take full advantage of fast transfer only plugging it to devices equipped with USB 3.0.
---

A combination of classics and modernity
The housing of GOODRAM Twin is made of solid plastic, which additionally protects the data carrier against mechanical damage.  Backness of GOODRAM Twin gives it additionally a classic look. A specially designed curves gives the pendrive a modern look.
---
Always at hand
The sleek shape of Twin gains popularity among supporters of practical solutions. Thanks to a well-thought-out design, GOODRAM Twin  can be easily attached to a leash offering instant access to your data.
---
Lifetime warranty
Production of GOODRAM Twin  involves only the best components, and, over the entire production process, memory undergoes multi-stage tests and very strict quality control. Thanks to the above, alike other GOODRAM brand products, Twin is covered by lifetime guarantee of the producer.
Online Inquiry